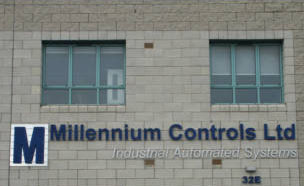 Millennium Controls Ltd is one of the Leading Systems Integration Companies based in Ireland for the Supply Control Systems, SCADA/MIS Systems and Complete Robotic Solutions to the Manufacturing, Food and Beverage, Pharmaceutical, Water and Waste Recycling Sectors.
We offer a full spectrum of related services including System Development, Upgrades for Legacy Systems, Automation Audits, 24×7 Support Contracts, Robot and Gripper Servicing Commissioning Services, Validation Services and Customised Training Courses as well as supplying Experienced Engineering and Technical Resources to supplement maintenance and project needs.
Established in 1997 we have developed our business with a team of Engineers, Software Developers, Technicians and Craftsmen with world wide experience and skills that have the required experience and expertise to provide solutions and services that are innovative, reliable and value for money.
We are very proud of the long standing relationships we have developed with all of our clients. Over the past 20 years we have developed our Customer Base across 5 Continents delivering Turnkey Industrial Automation Solutions using Best Available Technology. These Clients including many Multi National blue-chip Companies and our Company have developed and expanded to meet their Global needs which are an endorsement of our work and ability to deliver to our client's needs and expectations.
We look forward to hearing about your requirements and to discuss any opportunities to discuss where we might be able to assist you.
The particular areas of expertise consist of:
Integrated Robotic Systems
PLC Control Systems
Distributed Controls System
SCADA/ M.I.S Systems
Electrical Installation
Control panel design and build
You'll also appreciate our quick response for all of the services we provide, from proposals to quotations, delivery and after sales support.